Reiki I and II, including Holy Fire II Reiki, are taught together in this weekend intensive. During this class, you will learn the Reiki hand positions, give and complete Reiki treatment for yourself and others, Learn Japanese Reiki techniques as taught by Dr. Usui, Western style techniques introduced by Mrs. Takata, and Holy Fire techniques. You will learn how to use Reiki for specific conditions, the Reiki II symbols and how to use them, as well as learning distant healing.
Included in this class:
Class Manual Reiki Certificate
Reiki Certificate
This class is a combination of lecture, discussion, and hands on practice. The hands on portion consists of giving and receiving a complete Reiki treatment using all the hand positions, self-treatment, practice using all the level II symbols and Japanese Reiki techniques. You are expected to set aside time outside of class to practice upon completion of this program. You should practice at the minimum of one evening per week to gain experience and confidence you need to fully utilize your Reiki training.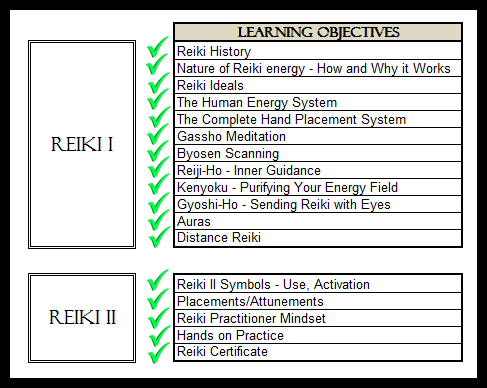 Logistics
Prerequisites:  None. No prior experience required to take this course. Location:  Washington, Michigan 48095 (map and directions provided upon registration) Lodging and Meals:  Students are responsible for their own lodging and meals. Investment: $350.00 with a $150.00 non-refundable deposit. Your registration is confirmed by paying the complete balance of $350, or by paying the non-refundable $150 registration fee.  The registration fee is non-refundable, and we understand life happens, so we allow it to be transferred to another class within one year of purchase.  Your class manual will be provided upon payment of the full course fee.